Outdoor Kitchen Malta
Being blessed with great weather all year round, outdoor entertaining and BBQ is one of the national past times in Malta. This page  is about outdoor kitchen Malta and will show you how to extend your living space by offering a central cooking and entertainment space in your garden, roof or terrace; basically turning your kitchen inside out.
A well design outdoor kitchen will allow you to cook outside whenever the weather permits. And we all know that the weather in Malta is great for a BBQ or outside fun almost all year round. By incorporating classic kitchen ideas to your outdoor setting allows you to maximise the potential of your home by adding versatility and fun to your outside entertainment area.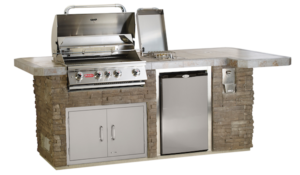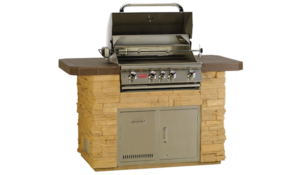 The best outdoor kitchens offer the functionality of an indoor kitchen, are as welcoming as a living room, and offer a great entertainment space. But what makes an outdoor kitchen?
Technically speaking a kitchen is a space where you can cook. However our kitchens are much more than that. In Malta the kitchen is the central part of the house, acting as a welcoming spot and entertainment place for our friends and family. And an outdoor kitchen should reflect this.
An outdoor kitchen can be fitted with a built in bbq grill, both gas bbq or charcoal bbq, a pizza oven, a gas burner, refrigerator, sink and other built in appliances. Seating is also normal around an outdoor kitchen.
There are various options when it comes to outdoor kitchens. A masonry bbq, using typical limestone, fits well with the typical traditional Malta house. You find brands that sell modular items for your diy outdoor kitchen. Bull Europe offer high quality stainless steel BBQs and other built in appliances, which can be used for your diy outdoor kitchen.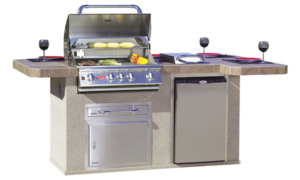 However, there are various ready made options to choose from out there. Outdoor kitchen Malta can guarantee you that a ready made option is the easiest way for you to start enjoying your outdoor kitchen without much work or know how. Bull Europe offers a wide range of Outdoor Kitchens, with various designs, sizes and finishes available. They also offer custom built options, that are delivered in a "ready to use" format, with little work required from your end. We suggest visiting their site or alternatively visit the AGPS showroom in Qormi. Napoleon BBQ Malta offer an interesting modular option, with stainless steel modular built outdoor kitchens. Napoleon are available from Big Mat.
Whatever outdoor kitchen you decide to invest in, be it a diy one, or a ready made option, it will certainly offer a great entertainment and cooking spot in your home, that will allow you to enjoy the great Malta weather.